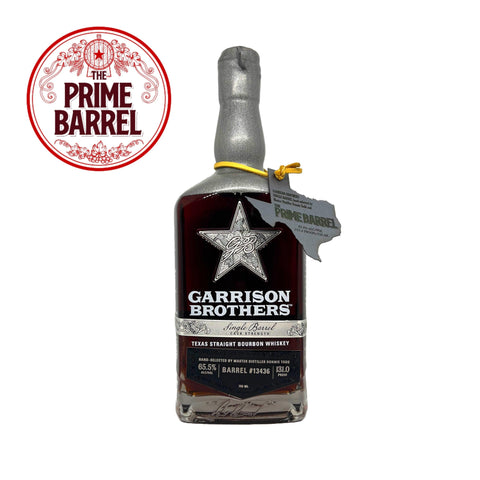 Garrison Brothers Distillery
Garrison Brothers "Arthur Shelby" Single Barrel Cask Strength Texas Straight Bourbon Whiskey The Prime Barrel Pick #48
Pickup currently unavailable
Age: 4 years
Mashbill: 74% food-grade white corn, 15% soft red winter wheat & 11% barley
Proof: 131 Proof
Nose: toasted oak, malt, graham cracker, tangerine, dried mango, vanilla, Dominican cigar
Palate: oak, maple syrup, citrus pith, dried cherries, thyme
Finish: long, spicy finish with notes of cinnamon and coriander

The sticker theme for the duo of Garrison Bros barrels is admittedly a bit of a reach. One of our favorite shows of all time is "Peaky Blinders" (available on Netflix). The main protagonist in the show is Tommy Shelby, the Irish mob boss. In the show, his family owns a pub called the "Garrison." He also has a brother (his right hand) in the show named Arthur Shelby. Whiskey plays a prominent role in the show, so with so many parallels, we wanted to pay homage to the show we loved watching over the years. 
As usual, parts of the proceeds will go to support a charity. This time, we will donate to GOOD BOURBON FOR A GOOD CAUSE organization. In association with the distilled spirits community, the organization is the beneficiary of marketing and promotional events for philanthropic purposes. Funds from GOOD BOURBON FOR A GOOD CAUSE are distributed to charitable organizations primarily, but not exclusively, in Blanco and Gillespie counties of Texas and to charitable organizations that serve current and former American military personnel.  For more details (and to make a donation), visit their page: https://www.goodbourbonforagoodcause.com/