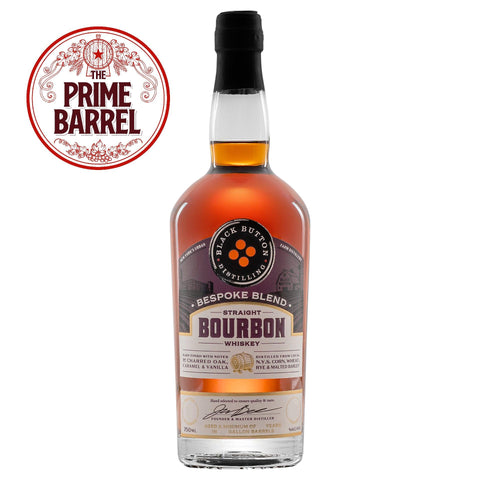 Black Button Distilling Cask Strength Straight Bourbon Whiskey "Cup of Unctuousness" The Prime Barrel Bespoke Blend
Pickup currently unavailable
We are proud to say that we always keep things fresh for our members (ask our very vibrant and engaging Discord community) and always try to push the envelope. Meet our latest endeavor - a bespoke blend specifically for our members - and you can become one by picking up a bottle of it. 
What is a "bespoke blend," you ask? First of its kind, this blend was created BY the members of The Prime Barrel club FOR the members of The Prime Barrel club. Together with four other members of our club and the Black Button's ambassador (brand partner on this project), we set out to blend a perfect whiskey. The process was as follows:
Step 1 - come up with a target taste profile. Black Button Distilling has three separate tanks containing liquids: sweet-heavy, oak-heavy, and spice-heavy. Playing with different ratios of each, we identified the perfect combination that satisfied the blending panel of members.
Step 2 - armed with the target taste profile, the distillery's master distiller used the base blend to come up with the final blending formula. 
Step 3 - there were eight different blends created, and the three best ones were identified as finalists. Those three blends were shipped to the same members that came up with the target taste profile.
Step 4 - we jumped on another call with the brand's ambassador and went through all 3 to pick THE BEST one. You can check out the video of this final step here: Black Button Bespoke Blend Selection
In the best possible way, the result was a far cry from where we started. Not being familiar with the brand, selecting committee folks were apprehensive about the selection to start. The first round of samples aimed at identifying a perfect tasting profile showed up at 94 proof, which did not help. That all changed with the final three blends we received upon blending completion. Folks at the Black Button Distilling performed some sort of voodoo (pardon the hyperbole). In reality, they made one fundamental change - they went with the cask strength whiskey to do final blends rather than the watered-down, 94-proof version. The change could not be more drastic. We could pick up rich oak notes on the nose and body, a beautiful expression of tannins with a nice strong finish. The final blend had ratios of 30% sweet, 29% spice, 26% oak, and 15% base and has Black Button's standard four-grain mash bill (60% corn, 20% wheat, 11% malted barley, 9% rye).
Tasting notes are as follows:
Nose: toasted rye spice, bubblegum, pipe tobacco
Palate: leather, pepper, oak, clove, peach
Finish: pepper long finish with a subtle sweetness on the end
Overall, the final product is an exciting whiskey we all loved, and we hope you will also.