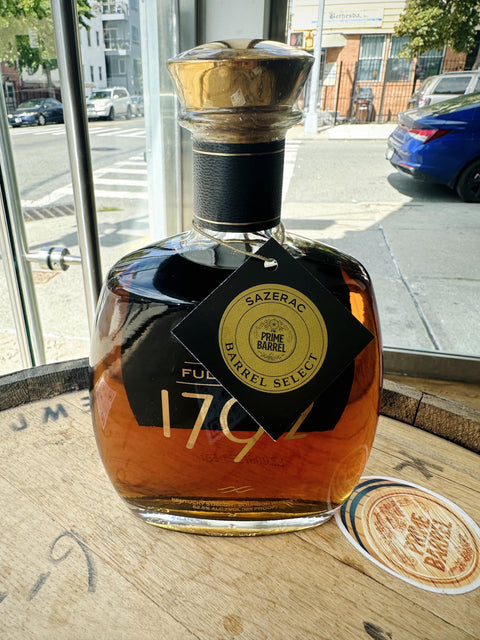 Barton Distilling Company
1792 Full Proof "Proof It Like It's Hot" Single Barrel Kentucky Straight Bourbon The Prime Barrel Pick #71
Pickup currently unavailable
The Prime Barrel whiskey club is thrilled to unveil the newest gem in our series of 1792 Full Proof Bourbon single barrel selections. Our musical journey with whiskey has taken us from the Prince-themed "Party like it's 1792" to the Bowie-inspired "Savage Lure". And now, we groove with the beats of hip-hop maestro Snoop Dogg in our "Proof it Like It's Hot" selection.
Diving into the essence of our chosen bourbon: 1792 Full Proof Bourbon, an 8-year-old masterpiece, reigns as a cask strength offering from the legendary Sazerac, the genius behind Buffalo Trace. In the world of bourbons, age is more than just a number. An 8-year age bourbon, especially from a revered Kentucky distillery, at full proof and this price point, is a rarity. It's a testament to both its lineage and the unparalleled experience it promises.
While the acclaimed 1792 Full Proof Bourbon, having earned titles like the 2020 World Whisky of the Year by Jim Murray, has a story of its own, our single barrels narrate unique tales. Each barrel harmoniously melds familiar flavors with refreshing novelties, offering an expression rooted in tradition and audaciously novel.
Our "Proof it Like It's Hot" selection doesn't just uphold our legacy—it adds a rich layer to it. Gracing your palate at 125 Proof, anticipate a dance of deeply resonating flavors. 
Dipping into a bit of bourbon history: 1792 Bourbon has witnessed a fascinating metamorphosis of names, from "Ridgewood Reserve 1792" to "1792 Ridgemont Reserve", eventually settling on "1792 Bourbon". Our sticker, echoing the "Artist Formerly Known As" tale, playfully acknowledges this historical evolution
Barrel Info:
| | |
| --- | --- |
| Barrel | 15-D-02-V3817.21-8766 |
| Date Filled | 4/02/15 |
| Entry Gallons | 53 |
| Entry Proof | 125 |
| Warehouse | V |
| Floor | 8 |
| Rick | 7 |
| Date Selected | 12/14/22 |
| Date Bottled | 4/18/23 |
| Age | 8 years |
| Char Level | 4 |
| Stave Seasoning | 6 months |
| Recipe | Rye Mash Bourbon |
| Barrel Type | American Oak |
| Cooperage | Independence Stave |
For the selection name, we went for "Proof It Like It's Hot", a fun twist on Snoop Dogg's "Drop It Like It's Hot," hinting at the whiskey's standout quality and warmth