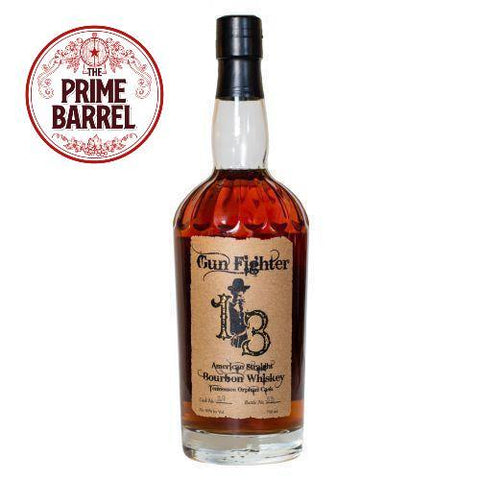 Gun Fighter 13 Straight Bourbon Whiskey The Prime Barrel Pick #1
Pickup currently unavailable
Dear fellow bourbon drinker, behold our inaugural single barrel pick! "Banksy Bananas" is us venturing out into single barrel territory, as customers such as yourself have repeatedly asked us to do. We could not be more proud of the pick. It's age, quality, and the taste is everything we like about bourbon.
We firmly believe that age-wise, 12-13 year old again is a sweet spot for bourbon. Anything younger can (and does) also taste good, but it does not quite get there in terms of whiskey character and development Anything older tends to be on the woody side. So in making this pick, we wanted to stick to this specific age statement. In terms of the taste, the pick has all of the characteristics you'd expect: vanilla and honey. It also does - at least to us - have pretty awesome overtones of bananas, which is unusual for whiskey and it immediately drew us to this barrel.
As for the sticker, it reflects on the banana overtones and the bourbon's Gun Fighter brand. Thank you to everyone that participated in helping us pick the label as it was a truly collaborative effort.
Ok, on to the tasting notes:
Gun Fighter 13 is aged for more than 13 years in new American white oak barrels and bottled at 100 proof. It has a nice dark amber color and great legs. The bourbon comes straight to the point with a sweet vanilla nose and prominent oak.  The palate is warm with banana (which is awesome and unusual), honey, caramel, and buttery smooth vanilla.  The finish is dry and spicy with lingering pepper and oak notes.
The Prime Barrel's Inaugural Single Barrel Selection
For and exclusively at the De Wine Spot
Cask #5
Barreled on December 22, 2004
Bottled on August 16, 2019
Non-Chill Filtered