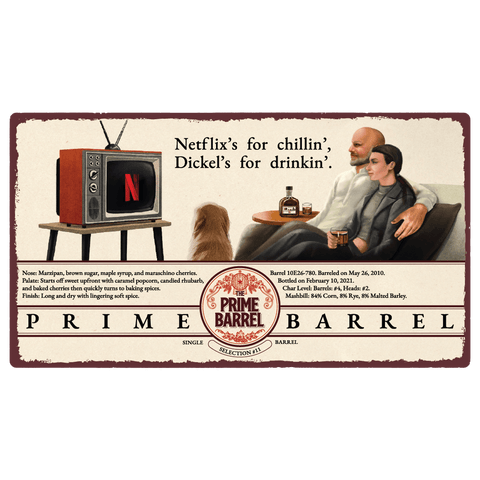 George Dickel "Netflix and Chill" Aged 9 Years Hand Selected Barrel Sour Mash Whisky The Prime Barrel Pick #11
Pickup currently unavailable
This is not your run-of-the-mill Dickel. Barrel 10E26-780 was barreled on May 26, 2010; it was bottled on February 10, 2021, making the actual whisky a few months shy of being in the barrel for 11 years. Barrel easily stood out to us in our blind tasting. We also put it up against other KY bourbons in its price range and it easily held its own, punching way above its weight.
The barrel is 103 proof, 84% Corn, 8% Rye, 8% Malted Barley. The whisky goes through Dickel's signature chilled charcoal mellow process known as the Lincoln County Process. These barrels were aged in new white oak barrels that are charred to #4 on the barrels and #2 on the heads.

For the sticker, we went old-school, playing off Dickel's own "Water for Washin', Dickel's for Drinkin'" marketing campaign from the early 80s. That campaign featured a vintage-style poster, which we thought would be interesting to juxtapose against something more modern, like Netflix. 
Nose: Marzipan, molasses/brown sugar, maple syrup, cracked vanilla bean, and maraschino cherries.
Palate: Not particularly vicious and starts off sweet upfront with caramel popcorn, candied rhubarb, and baked cherries but then quickly transitions into baking spices (very subtle touch of cinnamon and clove).
Finish: Finishes long and dry with lingering soft spice and hints of cocoa and espresso. There is some heat to it.


The charity this barrel selection will be supporting is the St. Jude Children's Research Hospital and donations will go towards treating and defeating childhood cancer and other life-threatening diseases.
Donation Amount: $5 from each bottle sold