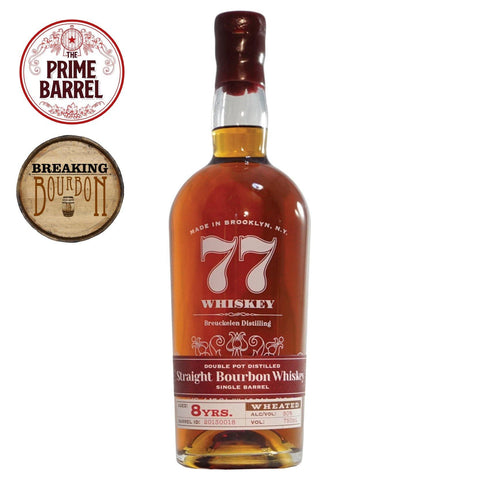 Breuckelen Distilling Company
Breuckelen Distilling 77 Whiskey "The Borough of Breuckelen" 8 Year Collaboration Single Barrel Wheated Straight Bourbon Whiskey
Pickup currently unavailable
When the opportunity to taste an 8-year barrel-proof wheated bourbon came up, our first thought was, "wait...there's someone offering an 8-year-old wheated bourbon...and it's a single barrel...and it's barrel proof?!" In some regard we were skeptical.
With Breuckelen's unique double pot distilled twist on this not-as-common bourbon mashbill, combined with extra time aging, we were admittedly pretty excited to taste these barrels. And so we did. We tasted four barrels which offered a wide range of flavor profiles and shockingly high proofs ranging from 136.2 to 140.2, which is technically considered a hazardous material, or HAZMAT for short, as the proof is so high you wouldn't be allowed to carry it onto an airplane.
We narrowed it down to two barrels and could have easily gone with either of them.  The first, a more traditional approach - focus on oak against sweeter notes with a rich delivery of flavors, the perfect bourbon to pair with a cigar. The second, a rich slurry of cinnamon spice, chocolate, tobacco, creme brulee, aged oak, and so much more - a flavor profile that requires no introduction but one that is definitively unique. We enjoyed a deal of back and forth and re-tasting before making a decision. Would you go with the barrel that offers a great - but more expected - flavor profile or the barrel that offers something fantastically different?
Ultimately everyone agreed, let's be different.
Hopefully, you enjoy this one-of-a-kind pick. It's a rarity to have a chance at an 8-year-old high proof, barrel proof wheater, and even more rare when it comes from an unexpected place. Breuckelen Distilling knocked it out of the park with this one, and we can't wait for the next.
Nose: Baking chocolate | Charred oak | Sharp & punchy cayenne pepper | Maple sugar | Baking spice slurry | Warm & rich
Palate: Rush of cinnamon spice | Cinnamon candies | Toffee | Tobacco leaf | Seasoned oak | Caramel chews | Creme brulee | Rich & delightful
Finish: Big spice rolls over from the palate | Black licorice | Tobacco leaf | Long
The charity this barrel selection will be supporting is the American Red Cross and donations will go towards helping people affected by Hurricane Ida.
Donation Amount: $5 from each bottle sold