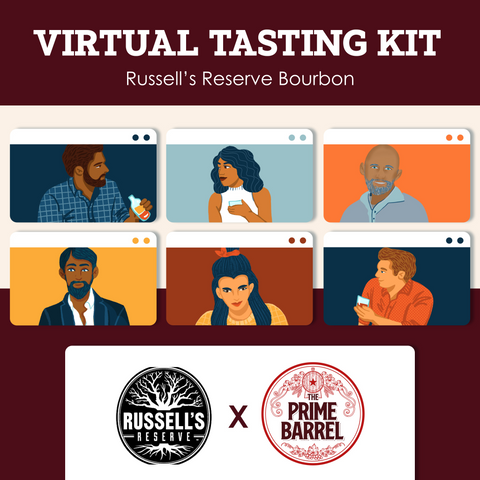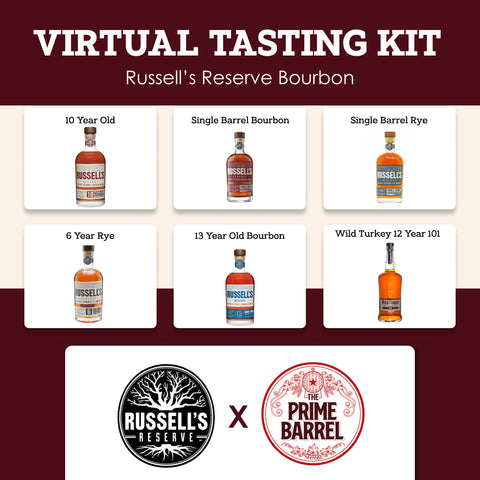 Russell's Reserve Bourbon Sample Set
Pickup currently unavailable
Exclusive to The Prime Barrel's Single Barrel Whiskey Club!
Embark on a distinguished journey with the Russell's Reserve Bourbon Sample Set, meticulously curated for connoisseurs of fine spirits. This collection is not just a tasting; it's a tribute to the Russell family's storied legacy and their commitment to crafting exceptional whiskeys:
1 x 1.5 oz bottle of Russell's Reserve 10 Year Old: Immerse yourself in a decade of maturation, where rich notes of vanilla and toffee elegantly intertwine with hints of toasted oak.
1 x 1.5 oz bottle of Russell's Reserve Single Barrel Bourbon: Revel in the uniqueness of a bourbon that's as individual as it is bold, offering a chorus of rich caramel and spicy dark chocolate nuances.
1 x 1.5 oz bottle of Russell's Reserve Single Barrel Rye: Venture through the robust character of a rye that's assertive yet sophisticated, marked by a lively spice and a subtle honeyed sweetness.
1 x 1.5 oz bottle of Russell's Reserve 6 Year Rye: Engage with the spirited expression of a younger rye, bursting with the fresh vibrancy of crisp apples and a medley of baking spices.
1 x 1.5 oz bottle of Russell's Reserve 13 Year Old Bourbon: Delight in the rarity of an exquisitely aged bourbon, where the deep essence of dark cherries and caramel is elevated by a lingering, oaky finish.
1 x 1.5 oz bottle of Wild Turkey 101 Proof 12-Year-Old (Import Edition): Experience an international sensation with this aged edition of the iconic Wild Turkey 101, presenting a bold and intricate flavor profile honed by extended aging.
Why this collection is indispensable:
Russell's Reserve and Wild Turkey are celebrated for their dedication to quality and tradition in bourbon distillation.
This exclusive collection spans a full array of flavor profiles, from the lively rye to the deep complexity of well-aged bourbons.
Offers a rare opportunity to sample an array of exceptional whiskeys, including an international edition not typically available stateside.
Secure your exploration of the Russell's Reserve legacy by reserving your set now. The quantities are limited, and the experience is unparalleled.
Special Tasting Event: Join us for an extraordinary evening led by Randall Bird, a veteran distiller with a rich history in the industry. Gain insights into the nuances of bourbon crafting and tasting notes from an expert's perspective.
Date: Wednesday, December 27, 2023
Time: 8 PM Eastern
Post-purchase, you will receive an invitation to RSVP with all necessary details for this exclusive event.
For deeper discussions and a vibrant community experience, we invite you to join The Prime Barrel Discord whiskey community. Look forward to more exclusive bourbon unveilings and community tastings!