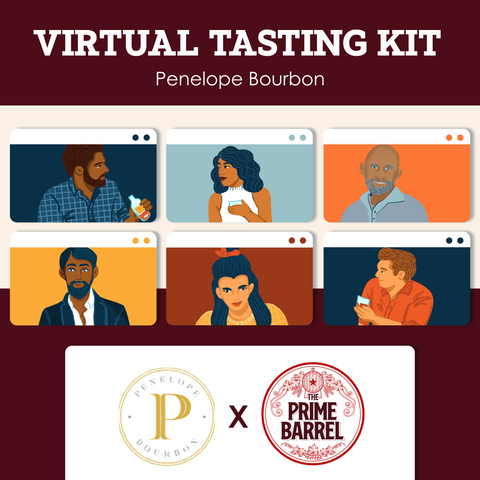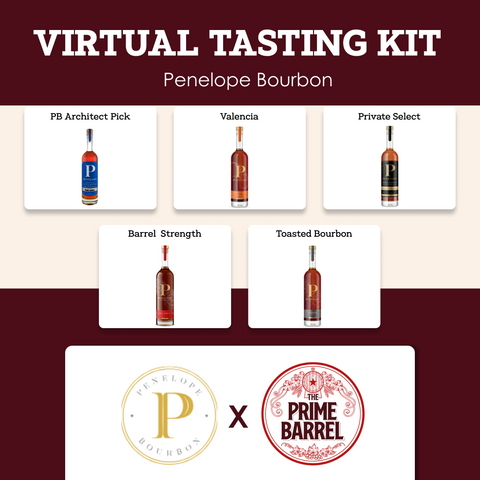 Penelope Bourbon Sample Set
Pickup currently unavailable
Exclusive to The Prime Barrel's Single Barrel whiskey club!

Embark on a refined bourbon journey with our meticulously curated Penelope Bourbon expressions, each boasting a distinctive flavor narrative. This collection is an ode to both tradition and innovation in bourbon crafting:
1 x 1.5 oz bottle of Private Select 9YO: Revel in the mature allure of this 9-year-old bourbon, a blend of tradition and meticulous aging, embodying a rich, full-bodied flavor profile.
1 x 1.5 oz bottle of Valencia: Dive into a bouquet of citrus and spice with Valencia. This expression carries a bright, zestful character intertwined with a warm, spicy finish.
1 x 1.5 oz bottle of Barrel Strength Batch 16: Experience bourbon in its robust form with the Barrel Strength Batch 16. This expression is an unfiltered essence, presenting an intense yet balanced flavor expedition.
1 x 1.5 oz bottle of Toasted Bourbon (latest batch): Engage with the warm, toasty notes in our latest Toasted Bourbon batch. Its gentle smoky essence, paired with a smooth caramel finish, is a testament to modern bourbon crafting techniques.
1 x 1.5 oz bottle of The Prime Barrel Architect Selection: Exclusively tailored for The Prime Barrel, this Architect Selection is a masterpiece of bourbon artistry, offering a harmonious blend of complexity and smoothness.
Why this collection is a must-have:
Penelope Bourbon is celebrated for its quality and inventive bourbon expressions.
This curated collection offers a diverse range of flavor profiles, enabling a comprehensive bourbon tasting journey.
A splendid opportunity to experience high-quality bourbons without committing to a single expression.
An opportunity to taste an upcoming pick before pulling a trigger on a full bottle.
The offer is exclusive and the number of collections is limited. Assure your exploration into the Penelope Bourbon narrative by placing your order now.
There will be only one tasting session this time: Wednesday, November 15, 2023, at 8 PM Eastern

Link to RSVP your spot will be sent separately to anyone who purchased the kit.

For more in-depth discussions and insights, join The Prime Barrel Discord whiskey community. Stay tuned for more exclusive bourbon unveilings!