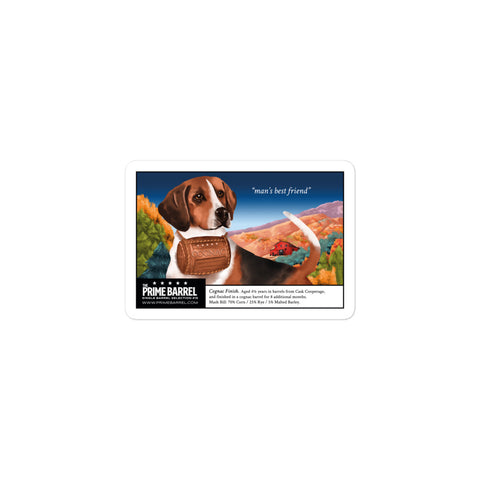 Prime Barrel - Single-Barrel Picks Marketplace
Selection #15: Taconic Distillery "Man's Best Friend" Bourbon Sticker
Pickup currently unavailable
For this sticker, we were inspired by Brandy Cask carrying Saint Bernards. As the myth goes, the brandy barrels have been tied around the necks of Saint Bernards that served as rescue dogs in the Alps. Upon finding wayward skiers, the small brandy cask offered a small solace to the rescuee while he was waiting for more support to arrive. With American foxhound being a mascot of the distillery (we some them on the grounds as well!), we switched things up a bit. We used an American Foxhound on a sticker with a cognac cask around its' neck, with a beautiful foliage season Upstate NY scenery in the background. The selection's title, "Man's Best Friend," can be equally attributed to dogs and bourbon, depending on who you ask.
• High opacity film that's impossible to see through
• Fast and easy bubble-free application
• Durable vinyl, perfect for indoor use
• 95µ density
Don't forget to clean the surface before applying the sticker.
Size guide
| | | |
| --- | --- | --- |
|   | HEIGHT (inches) | WIDTH (inches) |
| 3″×3″ | 3 | 3 |